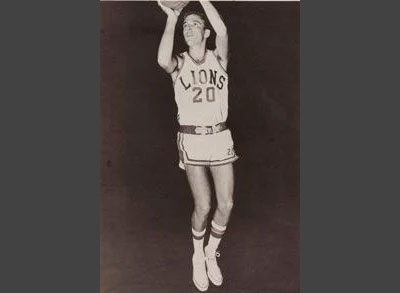 In March, Marcus Whitman won its first Section V boys basketball championship since 1976. This week we look back at the school's hoops program nearly two decades before that '76 squad.
Jeffery Paul Fitch and Phil Andrews were the star basketball players that fans in Gorham loved to watch. They played for Middlesex Valley, which is part of the Marcus Whitman school district now.
Fitch, 74, lives in the "dream" cottage he bought in 1970 on Canandaigua Lake after many years in Rushville. He actually bought the cottage before buying the Fairport house he lived in for 45 years. For the last 5-6 years, his dream lake house has been his full-time residence.
Andrews, 76, lives in Canandaigua today.
Looking back on the beginning of their time together, Fitch said, "It was a time in history where everyone in (Gorham/Rushville) would come to the games. The fans were terrific. It was a packed gym and of course, the gym was very very small."
He said that his brother played about six years prior to him and that's when the Middlesex basketball program started to take a turn in the right direction.
"What I remember most was the practice time I put in," Andrews also said in a phone call to the Times. "I had the passion for the game. After practice each day, I used to stay for at least an hour, and I would shoot. I had a barn at home and after dinner I would go to the barn and shoot some more."
Fitch and Andrews played for Middlesex Valley in the late 1950s/early '60s before the two went on to continue to play together for Division II East Texas State.
East Texas State is called Texas A&M University-Commerce today.
"I was never away from home more than a week at a basketball camp," Fitch stated on transitioning East Texas State. "I went with Phil and we went down. I was only 17 years old when I was a freshman down there."
"The court wasn't air conditioned and being in Texas at that time was pretty hot for a northern boy, to say the least," Fitch joked.
"(East Texas State) was great, we had a great time down (there)," Fitch added. "My freshman year we had a really good team and we almost went to the nationals, we lost in a playoff. We played against Texas Western, and that was the year before, the year of and the year after they were national champions. That was very exciting. In fact, that was the only game that we actually flew to. Other than that, we always had to go into station wagons, so that was pretty high-class for us at that time."
Fitch also said that they were gone quite a bit for traveling to basketball games. They only traveled to play in-state teams but Texas isn't exactly the size of New York.
Fitch and Andrews were a dream backcourt that never wanted to stop playing with each other.
"Just to be able to have a warm gym with lights and to be able to go in pretty much anytime we wanted to shoot, play one-on-one, to work at the game was nice," Andrews remembers of his time at East Texas. "Looking back on it, it was just the experience to play with and against some really good competition.
"I was just a Middlesex Valley boy to be able to make my passion happen. I just loved the game. Having a scholarship was just really beneficial. It's the little things that gave me the great feeling of playing. I appreciated being able to be a part of that."
Andrews also noted that Middlesex used to have talent shows and Andrews always was looking for something to be good at. He looked at the basketball hoop and said, "You know that's something I could be good at."
The rest was history.
The two had stellar high school careers before showing off their skills on the collegiate level.
Fitch was nicknamed the "Big Stretch." He was a three-sport athlete at Middlesex and dominated in soccer, basketball and baseball before graduating in 1963.
"Jeff (Fitch) and I used to spend hours of shooting and playing a little of one-on-one," Andrews reflects on his former teammate. "He had the same passion for the game that I did. Pretty much when I got my scholarship at East Texas State, I use to take Jeff's articles into the coach and I used to say 'If Jeff's not good enough, he can have my scholarship.' He was a player that we wanted to have on our team."
During Fitch's junior and senior season in high school, he averaged over 25 points a game.
His time at East Texas State spanned from 1963 to 1967. He finished his collegiate career with 1,478 points, an average of 17.6 points a game. He is sixth all-time in school history in points scored.
In addition to scoring, the "Big Stretch" also wasn't afraid of contact at the rim. He currently is third all-time in school history in career free throws with a grand total of 486 made free-bees. Fitch's 186 made free throws in his junior season still ranks as the second most in a single season in school history.
Fitch was named All-Lone Star Conference three times.
His biggest achievement in college was being awarded Lone Star Conference Most Valuable Player along with being an NAIA All-American in his senior year.
After college, Fitch settled in Fairport where he taught while also coaching basketball and golf for 33 years.
He put together a 458-217 career coaching record while receiving Section V Coach of the Year awards nine times.
His basketball teams won 12 Monroe County league titles and captured the 1975 Section V crown.
His golf teams finished with a record of 263-87 that expanded for over 30 years.
After achieving so much, Fitch was elected to the Marcus Whitman Hall of Fame in its third ever class in 2011.
He also was inducted into the Texas A&M-Commerce Athletic Hall of Fame in 1980 as well as the Section V Hall of Fame.
Andrews was another standout athlete at Middlesex. He also dominated in soccer, basketball and baseball.
A few years older than Fitch, he graduated from Middlesex in 1961.
Andrews led the Finger Lakes in scoring in both his junior and senior years, with 23 points a game and 28 points a game, respectively, including a game in which he pumped in 47 points.
Andrews finished with over 1,000 points in his high school career, as well as batting over .500 in his high school baseball career. By the time Andrews graduated from Middlesex, he had collected 11 varsity letters.
"Phil (Andrews) was an excellent ball player," Fitch stated about his former backcourt partner. "Even though he was a really good shooter, the best part of his game was probably the way he could get to the basket. He always knew how to use his body and he would finish once he got to the rim. If people took away his shot from the outside, he always took them to the hole and he was very, very good at finishing an 'and-one.' He'd make the basket and get a foul shot on top of that. He was very, very good to say the least in all aspects of the game"
Andrews played one year at Alfred State before accepting a scholarship to attend East Texas State.
It was the same year when Fitch went to the college.
Andrews led the Lone Star Conference in scoring his sophomore year in his first season at East Texas State during the 1963-64 season.
After three seasons at East Texas State, he finished with 1,092 points, an average of 16.1 per game.
To this day, Andrews is 10th all-time in school history for free-throws made at 324.
He also was selected for the The Dallas Morning News' All-Texas team multiple years.
Following college, Andrews coached one season at East Texas State in 1968 before heading back to the Finger Lakes area in 1969 where he accepted a physical education position at Canandaigua.
With the PE job came the varsity head coaching position for the basketball team. Andrews had that role until 1983, headlined by a Coach of the Year award and Class AA sectional championship in 1977.
Andrews was elected into the Marcus Whitman Hall of Fame in 2010. He was then elected into the Texas A&M-Commerce Athletic Hall of Fame in the following year in 2011.
There was another time when Fitch and Andrews both played together after East Texas State, however, and it was an titanic clash.
They both played on an AAU team called the Roseland Riders, sponsored by Dick Boyce whose dad owned Roseland Park in Canandaigua.
Prior to the 1972 Winter Olympic Games, the Soviet Union national team was playing some exhibitions in the United States in 1971. The Red Army National Team played between 10-15 games in the States, as Fitch remembers.
Boyce sponsored two games against the Soviet Union with one game in Canandaigua and one in Buffalo.
Prior to the game in Canandaigua, Fitch and Andrews wanted to add more talent to the AAU team before taking on the mighty Soviet Union.
And, boy did they.
One player they added was a young "Dr. J," future NBA Hall of Famer Julius Erving.
Erving was able to play because he had just graduated from the University of Massachusetts and had not officially started playing professionally for the Virginia Squires of the ABA yet.
At that time, AAU was only for seniors in high school or players who weren't in pro leagues after college like Fitch, Andrews and Erving were at that time.
They also added Darnell Hillman to the team. He won the first ever dunk contest and played for the Indiana Pacers. Former pro Randy Smith also played with Fitch and Andrews.
They had three eventual NBA players with Fitch and Andrews starting in the back-court. Geneva and Hobart grad Carmen Genovese also played on that team.
Suddenly and seemingly out of nowhere, an AAU basketball team headed by the two Middlesex greats was taking on the mighty Soviet Union.
Almost unsurprisingly, the game ended in controversy, and the Soviet Union pulled out an 83-82 win that day in Canandaigua.
The Soviet Union team would steal the show in the '72 Gold Medal Game in Munich beating the United States 51-50, the first time the U.S. had ever lost an Olympic basketball game.
"I was at Fairport and Phil (Andrews) was in Canandaigua and another guy, Peter Chuttey. We all got together and played as a town team," Fitch stated on playing in that exhibition against the Soviet Union. "We were ranked pretty high in the AAU circuit. Dick Boyce said he would sponsor a game in Canandaigua. We were able to get (Julius Erving) to play in that game with us. That was quite an interesting situation to be able play with (Julius Erving)."
Fitch and Andrews were no strangers to national AAU tournaments after traveling and playing in three or four national tourneys in Kentucky, South Carolina and Louisiana for some.
"I happened to be the captain of that (AAU) team," Andrews stated. "I have a Russian flag that they gave as a memento. In the Olympics, they always exchanged gifts and I got this little flag which I have framed. It was quite an experience."
Another big-time memory that Andrews has was seeing another future Hall of Famer, Bill Walton, when they were down in South Carolina. Walton was barefoot in the rain while the team was sitting down at a breakfast bar. Walton wasn't the only one of legendary UCLA coach John Wooden's players that the two would run into during their time in AAU.
Today, Fitch and Andrews still keep in touch not being that far apart from each other.
Andrews continues to keep his interest in golf.
The two will be Gorham legends forever and couldn't be more proud of how their basketball careers turned out.
Source: Finger Lake Times – Article By NICK FELICE [email protected]